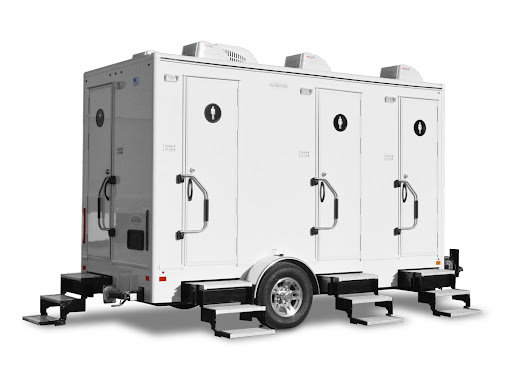 This huge 4-Door, 4-Station restroom trailer has a lovely interior and enough capacity to deliver a real first-class experience to up to 350 visitors.
The restroom trailer's soft interior colors and unique floor design provide customers with a memorable experience. It's a relaxing ambiance away from the bustle and commotion. A non-wood framework is lightweight and moisture-proof, reducing the fear of undesirable odors, mold, and significant rotting beneath, on top, and around the spa-like interior.
A number of features on Satellite Suites portable toilet trailers will astound you. They are common sense traits with exceptional longevity.
Group 24 batter that activated emergency braking
Exterior DOT LED lighting
Set-up and tear-down steps
Air conditioning
Entertainment system
Ventilation
Toils and Urinals
Stainless steel sink
No. of Stations: 4
How to get the best prices for porta potty rentals near your location?
Our portable sanitation experts have years of experience in supplying the best products to solve our clients' sanitation needs. Simply get in touch with our experts and get the best service for your workers or guests.
If You Need Any Portable Sanitation Solutions ... We Are Available For You