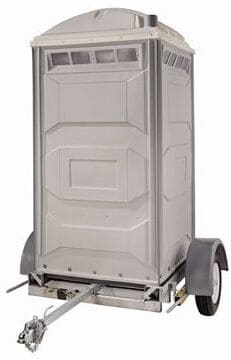 Our wheeled restroom is a premium portable toilet with all the necessary features you expect from a portable toilet. It is suitable for approximately 150 uses, supplied with 2 rolls of toilet tissues, designed to eliminate odors thanks to advanced ventilation. For maximal privacy, the restroom door can be locked from inside and privacy to bathroom users is also provided by occupancy indicator. The interior is spacious enough – it offers 85 cubic feet. An anti-slip flooring surface has been chosen for maximal security and large tires make it possible to supply these units to places with off-road access.
Wheeled restroom for Patriot Portable Restrooms is a non-flushing toilet available in 2″ ball or GI hitch.
Wheeled restrooms are used on various occasions. Thanks to large tires, they can also be supplied to areas with off-rad access only. A portion of bathroom users will appreciate a urinal which is a part of the indoor equipment of the restroom.
Wheeled restrooms are also a perfect choice for the ones who always travel. If your job requires traveling and you'd appreciate having a portable restroom at your workplace, the wheeled restroom is perfect for you.
How to get the best prices for porta potty rentals near your location?
Our portable sanitation experts have years of experience in supplying the best products to solve our clients' sanitation needs. Simply get in touch with our experts and get the best service for your workers or guests.
If You Need Any Portable Sanitation Solutions ... We Are Available For You