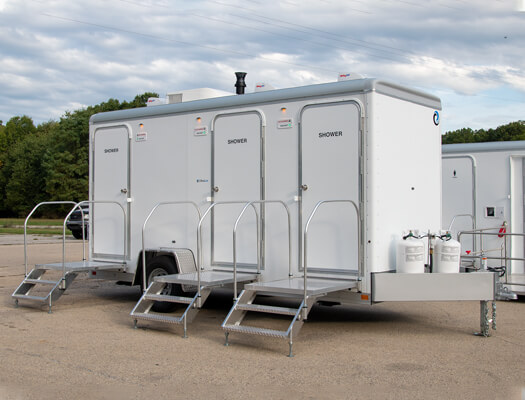 Restroom/Shower Combo Trailer
This trailer is designed to provide a comfortable and clean shower experience while also providing a restroom. Therefore, it's a perfect choice for any sporting event or your construction projects to also have a shower available for the bathroom users. The inside temperature is controlled by a heat strip on the roof, the shower drain diversion has a quick connect and the restroom part of the trailer contains luxury ceramic toilets (flushable). The bathroom users can enjoy a large shatter-proof mirror and their privacy is secured by occupancy LED indicator lights. Shower users' privacy is secured by curtains.
non-skid rubber floor and hand grabs for security
shower curtains and occupancy lights for privacy
durable ceramic flushable toilet bowls
toilet paper dispenser and soap dispenser
120v/20 AMP Motor-Base Receptacle
aluminum rails

Our Portable Sanitation Experts
are here to help your with your sanittation needs
How to get the best prices for porta potty rentals near your location?
Our portable sanitation experts have years of experience in supplying the best products to solve our clients' sanitation needs. Simply get in touch with our experts and get the best service for your workers or guests.
If You Need Any Portable Sanitation Solutions ... We Are Available For You