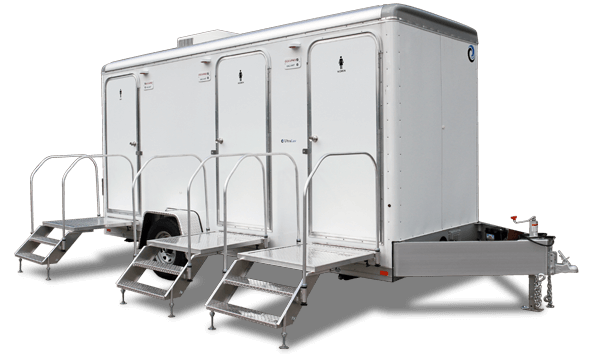 Our 3-Stall Restrooms Trailer is available with 3 restrooms or as a combination of restrooms/showers. If you're looking fora wheelchair accessible restroom trailer (ADA compliant), you may want to see your 3-stalls wheelchair-accessible portable restroom trailer. The product is made by UltraLav, the world's leading restroom trailers manufacturer. Up to 1,300 flushed are possible, the LED occupancy light cares for maximal privacy, auto flushing urinals are installed in the men's part of the trailer, and toilet bowls are made from beautiful ceramic material. Stainless handrails and hand grabs take care of your safety. Toilet paper holder, as well as a paper towel dispenser, increase the comfort for bathroom users.
thermostat (wall-mounted) and heat strip
LED occupancy light
auto flushing ceramic toilet bowls and urinals
paper towel dispenser and toilet paper holder
stainless steel hand grabs and anti-skid rubber floor
sanitary supply in women's part of the trailer

Our Portable Sanitation Experts
are here to help your with your sanittation needs
How to get the best prices for porta potty rentals near your location?
Our portable sanitation experts have years of experience in supplying the best products to solve our clients' sanitation needs. Simply get in touch with our experts and get the best service for your workers or guests.
If You Need Any Portable Sanitation Solutions ... We Are Available For You