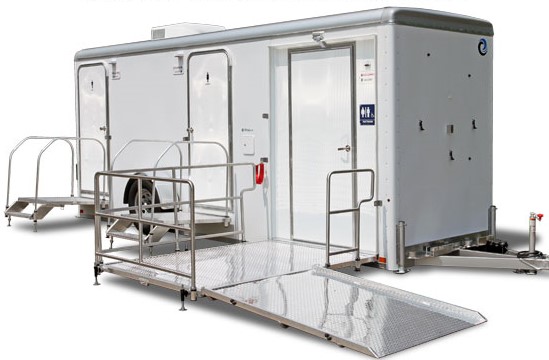 This restroom trailer is 100% wheelchair accessible and ADA compliant. It offers two standard restrooms (usually for men and women) and one wheelchair accessible with extra room, non-skid rubber floor, stainless handrails, and grabs bars, and a 36″ w entry door for bathroom user safety. The toilets are equipped with motion sensor flushing, a self-closing faucet with front push operation. A well-mounted thermostat and a roof heat strip care for the restrooms' climate. Your guests will also apprecciate a large shatterproof mirror in each of the 3 restrooms. 
stainless steel handrails and hand grabs
non-skid rubber floor
LED occupancy indicator
1 ADA compliant restroom (wheelchair accessible)
massive 36″ w entry door for the wheelchair accessible restroom
large shatterproof mirror
ceramic china toilet bowls
thermostat and roof heat strip

Our Portable Sanitation Experts
are here to help your with your sanittation needs
How to get the best prices for porta potty rentals near your location?
Our portable sanitation experts have years of experience in supplying the best products to solve our clients' sanitation needs. Simply get in touch with our experts and get the best service for your workers or guests.
If You Need Any Portable Sanitation Solutions ... We Are Available For You