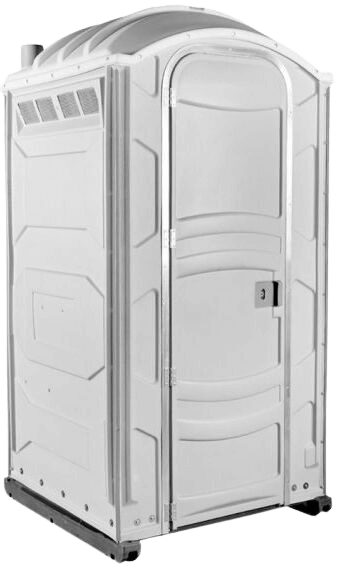 Our bestseller is the standard portable toilets delivered with 2 rolls of toilet paper and suitable for 150+ uses. The 7.5 feet high and 4 feet wide body is built from strong plastic and offers a very comfortable toilet seat as well as approx. 50-gallon tank for waste. There is a special blue liquid inside the tank which chemically breaks down the waste and removes the odor. For hygienic purposes, the standard portable toilet from
Patriot Portable Restrooms
also comes with a hand cleaner and for your full privacy, the toilet can be locked from inside.
The interior of the standard portable restroom is designed for maximum ventilation and together with a blue liquid inside the waste tank, it minimizes odors. In order to prevent any injuries, the floor surface is made from a special anti-flip material, and the translucent roof secures enough daylight inside the restroom for your comfort and safety.
This product is available in various colors in different regions – to find out more about the options in your regions, please get in touch with our sanitation experts.
Standard restrooms are mobile and very easy to move portable units, yet they are constructed from a durable polyurethane material. With its dimensions (4 feet wide, 4 feet lenght and 7.5 feet height), the product is suitable for most people.
Our clients use standard portable toilets for many types of events such as weddings, filming, and construction. With over 150 possible uses, our units are available for your weekend events as well as longer events depending on our exact sanitation needs.
Height: 7.5ft
Width: 4ft
Lenght: 4ft
Colors: Vary by location
Construction job
Weddings
Natural Disaster Relief
Sport Events
Music Festivals
How to get the best prices for porta potty rentals near your location?
Our portable sanitation experts have years of experience in supplying the best products to solve our clients' sanitation needs. Simply get in touch with our experts and get the best service for your workers or guests.
If You Need Any Portable Sanitation Solutions ... We Are Available For You