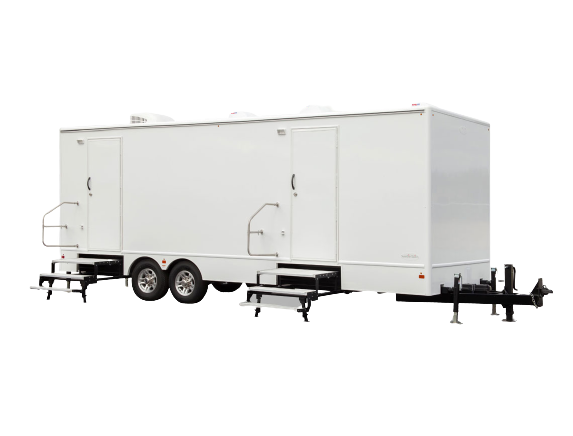 With 10 stalls, this trailer is suitable for big fancy events thanks to its generous capacity as well as its luxurious look your guests will definitely appreciate! The stalls are spacious, each part (men's and women's) of the trailer has its own climate control (heating and air-conditioning possible) and an entry door. Stainless steel handrails & grab bars look fancy and also provide necessary security for bathroom users. Shatterproof mirrors and beautifully looking sinks are also available for your guests. Men's part contains urinals as well. This trailer requires electrical and water hookups. 
10 stalls divided into men's and women's parts of the trailer
shatterproof mirrors and nice-looking stainless steel sinks
urinals in men's part of the trailer
individual climate control for each part
separate entry door for each part
water and electrical hookups required
heating and air conditioning possible

Our Portable Sanitation Experts
are here to help your with your sanittation needs
How to get the best prices for porta potty rentals near your location?
Our portable sanitation experts have years of experience in supplying the best products to solve our clients' sanitation needs. Simply get in touch with our experts and get the best service for your workers or guests.
If You Need Any Portable Sanitation Solutions ... We Are Available For You