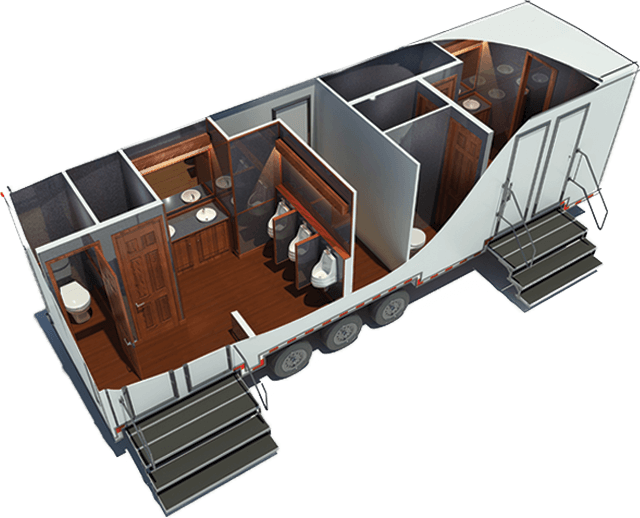 Black Tie Restroom Trailer
The Black Tie portable restroom trailer is a flagship of Patriot Portable Restrooms. It is a symbol of VIP and luxury experience and is very suitable for high-end events. Therefore, our VIP clients from all over the US use the 28FT restroom to provide a maximal luxury experience. The trailer can be deployed at any place with a water hookup and electricity supply. Your guest will surely appreciate the fully-climate controlled air conditions, elegant interior with stainless hand grabs, large enlightened mirrors, occupancy lights, and stylish wooden doors. The men's part of the trailer is also equipped with a urinal. The Black Tie Restroom Trailer is available in several size versions, please get in touch with our sanitation experts to discuss your sanitation needs.
massive restroom wooden doors for maximal privacy
fresh water and electricity supply
urinal in the men's part of the trailer
large shatter-proof mirrors
large sinks in both parts of the restroom (men's and women's)
fashionable and luxury experience
the trailer requires water and electricity hook-ups

Our Portable Sanitation Experts
are here to help your with your sanittation needs
How to get the best prices for porta potty rentals near your location?
Our portable sanitation experts have years of experience in supplying the best products to solve our clients' sanitation needs. Simply get in touch with our experts and get the best service for your workers or guests.
If You Need Any Portable Sanitation Solutions ... We Are Available For You