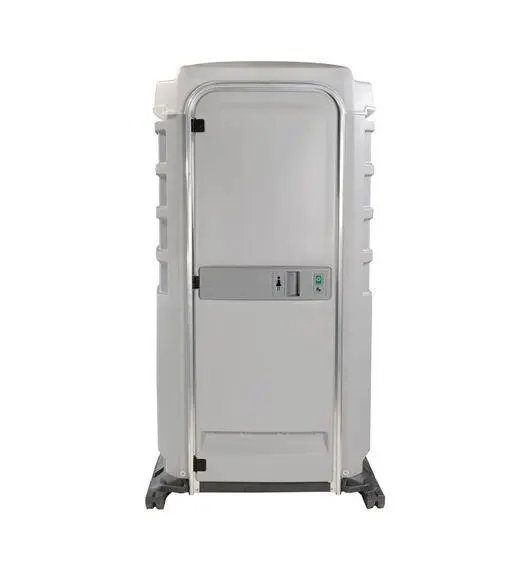 The flushing portable toilets are supplied with a 15-gallon freshwater tank for flushing, which is easily activated by foot. It also includes a 37-gallon waste tank and is designed for maximum odor elimination. Our flushing units are therefore suitable for fancy events such as weddings, parties, and more.
The comfort and hygiene are secured by sanitary toilet seed pads, a mirror, storage shelves, soaps, and stocked paper towels.
As well as our standard non-flushing portable restroom, our flushing units are also optimized for maximal odors elimination. The interior volume is 85 cubic feet with an anti-slip flooring surface and transfluent roof allowing good visibility inside the restroom. The restroom's flushing system is activated by a foot pump, allowing the people to eliminate unnecessary touches inside the restroom.
Flushing portable toilets are made from a special and durable plastic material, yet they look fancy and convenient. Therefore, they are the best choice to solve your sanitation needs at fancy events such as weddings, filming, etc.
The body is 4 feet wide, 4 feet long, and 7.5 feet high. Your privacy is secured by an occupancy indicator and the door can be locked from inside, of course. Restrooms are supplied in various colors depending on the region.
Our PJ flushing units are ready to impress your guests at any type of event, including high-end parties and weddings. With a 15-gallon freshwater tank, 1 restroom is suitable for approx. 100 uses. We also equipped the restrooms with 2 rolls of tissues.
Height: 7.5ft
Width: 4ft
Lenght: 4ft
Colors: Vary by location
High-End Events
Weddings
Birthday Parties
Company Parties
Press Conferences
How to get the best prices for porta potty rentals near your location?
Our portable sanitation experts have years of experience in supplying the best products to solve our clients' sanitation needs. Simply get in touch with our experts and get the best service for your workers or guests.
If You Need Any Portable Sanitation Solutions ... We Are Available For You