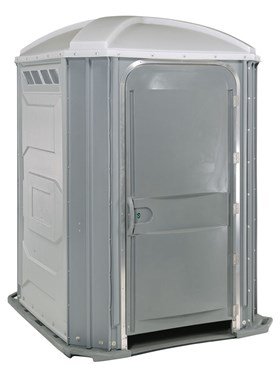 Wheelchair Accessible Restroom
Our wheelchair-accessible portable toilets are made with grab bars and support rails to be maximally accessible for people with disabilities that require a wheelchair. No ramp is needed to access the restroom. These units are non-flushing ones, include 2 rolls of toilet tissue, and offer an extra indoor room as normal non-portable wheelchair-accessible restrooms usually do. As well as other plastic restrooms, wheelchair-accessible units are made from durable material which looks clean and is very suitable for sanitation purposes.
Odors are eliminated by maximal ventilation and privacy is secured by an indoor lock and outdoor occupancy indicator.
The wheelchair-accessible portable toilets are supplied in various color combos. In order to find out which colors are available in your area, please get in touch with our sanitation experts.
The toilet lasts for approximately 150 uses and is usually offered in 28-day rental periods.
Wheelchair-accessible portable restrooms are ADA compliant.
These restrooms are recommended for all types of events where guests with disabilities requiring a wheelchair are expected. They can also be useful for companies employing disabled workers.
How to get the best prices for porta potty rentals near your location?
Our portable sanitation experts have years of experience in supplying the best products to solve our clients' sanitation needs. Simply get in touch with our experts and get the best service for your workers or guests.
If You Need Any Portable Sanitation Solutions ... We Are Available For You