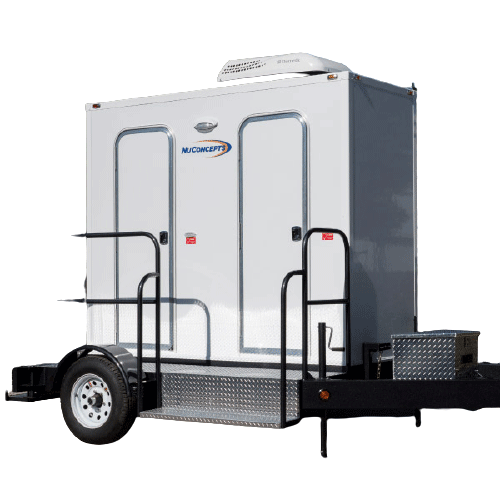 2-Stall Restroom Trailers
2-Stall Restroom Trailer from Patriot Portable Restrooms is produced by Nu-Concept, a company well known as a leader in the production of portable restrooms. The firm builds many of its products with innovative technology, making the NuConcept portable restrooms not only super comfortable and representative, but also environmentally friendly. Solar panels are installed on the roof of the trailers and supply renewable electrical energy.
The flooring is made from vinyl and is just a part of a very spacious indoor space. The ceiling is made from aluminum and also other parts of the restroom are made from high-quality durable materials.
occupancy light for maximal privacy
indoor door lock for even better privacy
solar panel supplying 30 watt of renewable "green" energy
advanced airconditioning with in-built thermostat and roof heat strip
soap suspensor
sink with freshwater

Our Portable Sanitation Experts
are here to help your with your sanittation needs
How to get the best prices for porta potty rentals near your location?
Our portable sanitation experts have years of experience in supplying the best products to solve our clients' sanitation needs. Simply get in touch with our experts and get the best service for your workers or guests.
If You Need Any Portable Sanitation Solutions ... We Are Available For You