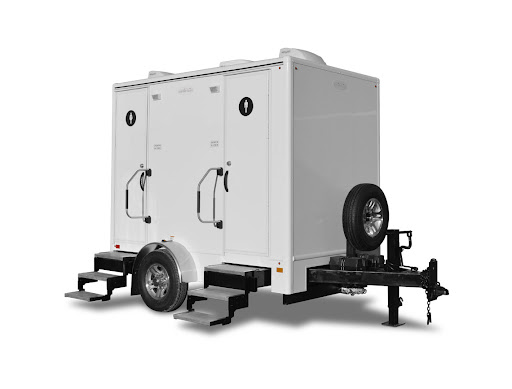 2 Stall Satellite Spa Restroom
The warm, pleasant surroundings greet guests as they enter this private, 2-station restroom trailer. The soothing music and clean, well-lit environment create a comfortable ambiance where people can get away from the mob and have some alone time.
The numerous features of this one-of-a-kind portable restroom trailer will appeal to you. It has a non-wood framework, for example, to lower the overall weight of the restroom trailer and minimize costly water damage. A polyethylene tank is also utilized to minimize weight, improve cleaning and pumping, and eliminate odors.
Heating and air conditioning
Hot and cold running water
Simulated wood flooring
Ducted air conditioning with heat strip
Exterior DOT LED lighting
Entertainment system
Vent
How to get the best prices for porta potty rentals near your location?
Our portable sanitation experts have years of experience in supplying the best products to solve our clients' sanitation needs. Simply get in touch with our experts and get the best service for your workers or guests.
If You Need Any Portable Sanitation Solutions ... We Are Available For You