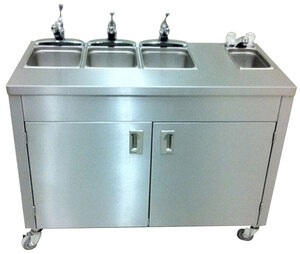 3-Basin Hot/Cold Portable Sink
Looking for a hot water sink rental? Our 3-Basin Hot/Cold Portable Sink may be a perfect solution for your sanitation needs! It's constructed from durable stainless steel and a hot water supply may fulfill some of the local requirements you face. The sink requires a 115-volt household plug and a normal garden hose connection for the water supply. The waste holding tank has 250 gallons. The dimensions are 90″ in width and 44″ in height.
Construction job
Weddings
Natural Disaster Relief
Sport Events
Music Festivals
How to get the best prices for porta potty rentals near your location?
Our portable sanitation experts have years of experience in supplying the best products to solve our clients' sanitation needs. Simply get in touch with our experts and get the best service for your workers or guests.
If You Need Any Portable Sanitation Solutions ... We Are Available For You